Join the Forces of Sales and Marketing to Boost Your ROI
You know what the biggest problem is for businesses that have siloed sales and marketing departments? Besides the obvious, they often feel like they're experiencing success.
Because their company has always operated with distinct sales and marketing teams, they've always measured success based on their past data. But their benchmarks don't consider the kind of success businesses can have when their sales and marketing teams are perfectly aligned.
Even if your sales and marketing teams are working toward the same objective, they'll never realize their full potential without truly joining forces. If you want to maximize your ROI and close more business, you need one super team with two areas of expertise.
---
Need help aligning your sales and marketing team?
Get everything you need to build (or refine) this relationship by downloading the Ultimate Inbound Marketing and Sales Playbook!
---
Alignment between your sales and marketing departments can be the difference between another solid quarter and the best you've ever witnessed. When these teams work together, you may wind up completely redefining expectations and future goals.
So how can you begin aligning your sales and marketing departments?

Get Leadership Signoff and Support
The first thing you need to do before before trying to implement any change is getting approval and support from your leadership team.
Take it from Fergal Glynn, VP of marketing at Docurated, a New York-based marketing automation firm:
"In a lot of places, there's huge tension between sales and marketing teams. In sales, they don't appreciate all the different work that marketing can do, and marketing doesn't understand all of the different situations that the sales team faces. The very first [step] is an executive agreement."
If you're on your organization's leadership team and you believe there's room for improvement between sales and marketing, there are two things you must do before you can get underway. First, you must create ROI goals for each department (they should be the same, but we'll get to that later). Your C-Suite should also be a part of setting these goals.
The second thing you must do is determine someone who should lead this alignment process. This person should be reliable and strong, but also levelheaded – they may face some friction between both your sales and marketing teams. For instance, both sides may argue that they "Don't have time for more meetings" or "It's going to be too difficult to get two different departments on the same page."
Fear not. With the support of leadership and a strong point person, you can make waves within your organization.

Define and Add Values to Your MQLs, SALs, and SQLs
With the backing of your leaders, you can begin working together to define the different kinds of leads your sales and marketing teams encounter:
Marketing Qualified Leads (MQL)

Sales Accepted Leads (SAL)

Sales Qualified Leads (SQL)
You can't assume that your two teams define these leads the same way. In fact, it's more likely that sales and marketing have different definitions of these stages of your sales funnel. They also may differ in defining how these leads move from stage to stage.
Marketing teams are responsible for the MQL based on a variety of lead traits, including:
Industry

Location

Role within company

Decision maker or Influencer?
Sales teams are responsible for SALs and SQLs. These two types of leads are similar. A SAL is a lead that has some potential – someone your sales team will follow up with. A SQL refers to a lead that your sales team can likely close and convert into a customer.
If your marketing and sales teams have different definitions of leads and how they fit into their team's processes, the handoff from marketing to sales will be clumsy.
Say your marketing team believes a lead is ready to move down the sales funnel. They pass the prospect off to your sales team, which follows up with the lead. But sales finds that the prospect isn't ready to move forward in the purchasing process. These kinds of mistakes happen all the time, and they create awkward conversations with your prospects that could possibly kill your opportunity.
These events are neither the fault of your marketing or sales teams. The issue is the alignment (or lack thereof) between the two departments. This is why defining your sales funnel together is so important. It's also why defining leads as early as possible will help you make the most of your opportunities.
These conversations also help each member of your sales and marketing teams better understand their role within your complete process. It will give everyone greater insight into what type of leads are being generated, and help your sales team figure out when and if they need to reach out to a prospect.
Speaking of which, your teams should also agree to the proper timing to exchange a prospect. The chances of closing that lead will increase significantly.
Set Role Expectations Within Each Department
As we just mentioned, understanding your role (and others) is key to creating a cohesive partnership. Without it, your sales team may not understand how marketing's efforts help churn leads down the funnel and into their good hands.
When your sales team does understand how marketing's activities are responsible for uncovering or creating quality leads, they won't feel as if they're alone generating revenue.
It's important to remember that sales and marketing should be held responsible for the same, unifying goal. And those benchmarks need to be directly linked to ROI. Your teams may have different ways to create a return on investment, but the ROI itself is the only KPI that truly matters.
Regardless of the exact goals you set, both departments are equally accountable for generating leads and turning them into customers.
Think of it this way: The goal of every offense is to score touchdowns. A wide receiver can't score unless the quarterback gives them a catchable pass. And the quarterback can't throw for a touchdown if the wide receiver doesn't get open and catch the ball. No one's going to spike the ball and chest bump unless they both play their part.
Create a Service-Level Agreement
To help each department gain a better understanding of what happens in various situations, you need to outline a Service Level Agreement (SLA) for each phase of your revenue cycle.
These situations could include:
What happens when a MQL is handed off to your sales department?

How long does the sales team have to reach out to a MQL?

What happens if sales doesn't reach out to an MQL?

If sales determines a lead is unfit to be contacted, what happens next?

What will marketing do with a lead that isn't ready to be contacted? What's this process look like?
You may want to consider using an automated system such as HubSpot to help you track these activities. With a paper trail, your marketing team can show how a prospect became a MQL. And your sales team will have a record of what actions that prospect took to become a MQL. It will also help them keep track of their own communication with that lead.
Meet Regularly to Coordinate Marketing and Sales Efforts
At first, it won't be easy to get both departments together or on the same page. But motivating your teams and encouraging them to come together will pay off for both teams – and certainly your business. That success will only become consistent if your teams meet regularly, of course.
Weekly Smarketing Meetings
Set a weekly time to meet as a combined smarketing team, and make sure you stick to it. Don't let your team members skip out on these meetings. Things happen of course, but it's important that everyone is involved, every step of the way. In these meetings, make sure the topics you discuss are valuable for both teams. They should not become marketing meetings, with the sales team simply in attendance, or vice versa.
New Employee Meetings
Whenever a new sales or marketing employee joins the team, host a meeting to teach them how your teams work together. Make sure they understand how both departments lean on each other to achieve your ROI and business goals. This is also a time to discuss your weekly meetings, how content is created together, and more. It's important to set these expectations before they get going. That way, they can adopt the right mentality and hit the ground running.
Monthly Manager Meetings
Monthly meetings with sales managers are another key meeting to ensure sustainable success. In this meeting, managers should discuss your progress toward company goals and assess opportunities to work smarter. And of course, this is another touch point to ensure that everyone is working on the same page.

Work Together to Create Great Content
It takes patience and hard work to align your sales and marketing teams. But when you've reached that point, you can finally get to the most "needle-moving" objectives. Put each team's expertise to work by building out content and materials that will attract the most qualified prospects and convert them from leads to customers.
Set aside time during some of your weekly meetings (if not all of them) to discuss what pain points the sales team is consistently hearing from prospects. It's these insights that are essential to your marketing department's success – It gives them an "inside look" at what topics are most important to your target audience. It'll also help them understand what prospects may be searching for online.
In turn, your marketing team can create blogs, whitepapers, webinars, videos, and other forms of content to attract qualified prospects. And these will help position your company as industry experts.
This content should provide answers and solutions to these common prospect questions. These topics will change over time, of course – thus the importance of talking about them regularly. But to help these content ideas come to life, you need to put a process in place that helps you capture these topics and nurture them from ideas to completed content offers.
Outline who's responsible for content creation and how marketing will get input from sales. Will someone interview a sales manager? Will that sales manager review the document after the first draft? You can create a spreadsheet or other document to share ideas and track which topics you've covered.

Help Your Sales Team Showcase its Expertise
You're bound to come up with many different kinds of ideas when your teams talk through prospect pains. These issues don't always have to become the source of larger offers. Blog content is key to attracting prospects as well. It's one of many kinds of content that takes less time to produce, but has a lasting impact. For instance, websites with a blog tend to have 434% more indexed pages, which means prospects are more likely to find those websites.
Use your blog to showcase your sales team and put their industry expertise on display. You should be publishing blog content on a regular basis anyway. If you haven't published any blogs authored by your sales leaders, start ghostwriting for some of them to get their names out and display their expertise to potential customers.
Social media is another lucrative channel for your sales team. Provide them with educational resources or teach them how they can leverage social media to:
Build their online presence

Attract leads
LinkedIn is an especially great resource your sales team can take advantage of to generate leads. They can get involved in LinkedIn Groups and even publish content on LinkedIn Pulse (even if it's ghostwritten by your marketing team).
Consider hosting a workshop once a month on different topics to help your sales team work smarter online. Ultimately, you'll help them close more deals and reach your ROI goals.

Give Yours Sales Team Actionable Tools
Once your marketing team begins creating valuable content pieces and using them to attract leads, you should create a resource center offers for your sales team. With marketing materials created directly from the discussions and brainstorms these teams held together, sales will have content to offer prospects that will help them learn to address their pains.
Eventually, you should have pieces that speak to all pains that prospects may experience. And if your sales team is armed with content that provides prospects the answers and education they're looking for, your leads will view you as a valuable, helpful partner.
Within this resource center, you should also have a section of content covering the best practices and insights your sales team needs to make the most of their efforts – the social media content, for example. These will allow sales to reference materials on their own time. They won't have to send emails to your marketing department to try to answer questions they may have. And it should keep them from choosing not to try to find those answers at all.

Build Your Money-Making Smarketing Team
When your leadership, marketing, and sales teams are all on board – when processes are finally in place – you will slowly see an uptick in your overall ROI. Marketing will convert more prospects into leads; Sales will close more deals; Your entire business will enjoy success unlike anything its experienced before.
This is a journey, though. As we mentioned, getting your sales and marketing teams to buy into complete alignment can be a slow process. But once you've built momentum, your success will undoubtedly follow.

If you want more insight into how you can better align your sales and marketing teams, download The Ultimate Inbound Marketing and Sales Playbook.
This exclusive guide from IMPACT and Digital Media Training will teach you everything you need to build (or refine) the relationship between your inbound marketing and sales teams.
Fill out the form below to get your free copy of The Ultimate Inbound Marketing and Sales Playbook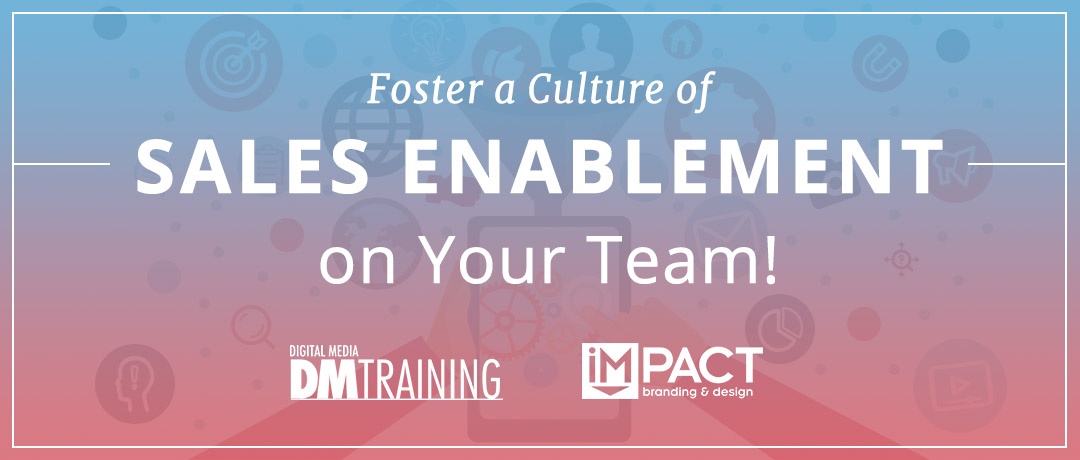 About Molly D Protosow
Molly Protosow is the COO and Training Strategist for DMTraining. She manages the day-to-day business and training operations while helping research and develop new training programs as well as refreshing signature programs to reflect the newest sales trends, technology, and best practices. Molly utilizes her wide-range of skills to create sales and marketing assets focused on delivering value to DMT's clients. Molly has a passion for learning and leveraging new knowledge and experiences. Outside of DMTraining, Molly is a hard core Pittsburgh sports fan, enjoys staying active by running and golfing, and unwinds by reading and playing the piano.