9 of the Best Sales & Marketing Books to Give You a Fresh Perspective on Your Business
With Thanksgiving over and the radio already overflowing with carols, the holiday season is in full swing. While shopping for all of your friends and loved ones, put some time aside to treat yourself to a special something. A book is one of the best gifts you could possibly give yourself.
You may already be thinking that your schedule is far too busy to put time aside for a book. However, making time will make your life better, not more hectic. The more you read the more you learn, and in order to stay ahead in this industry you need to be a ceaseless learner.
That is precisely why we've compiled a list of the best sales and marketing books to give you a leg up in the industry.
---
Want more sales tips? Get the 12 Days of Selling for more on sales & marketing best practices.
---
1) The Psychology of Selling
Author: Brian Tracy
Interdisciplinary study is something you should never shy away from. There is a reason that Steve Jobs placed the restroom of Apple's offices in the middle of the floor. On one side of the building worked the engineering team, and the creative team on the opposite. With a restroom in the middle, the left brain and right brain of Apple had no choice but to interact and share ideas. There is an incredible amount sellers can learn from other industries. Brian Tracy's book will motivate your subconscious for sales success, boost your self esteem, and earn your customer's' trust.
2) Execution: The Discipline of Getting Things Done
Author:

Lawrence Bossidy and Ram Charan
Everyone has amazing ideas. Unfortunately, most people do not actually follow through and execute their grand plans. When motivation and discipline falter, plans for success fall to the wayside and are often forgotten. Maintaining motivation year round is a constant struggle, everyone could use a little help in this department. This book by Lawrence Bossidy and Ram Charanis delves into what strategies, processes, leadership, and execution drive companies to succeed. Remember, execution; a discipline and integral to strategy, the major job of a business leader, and a necessary core element of an organization's culture.
3) "Go-Giver, Expanded Edition: A Little Story About a Powerful Business Idea"
Author: Bob Burg
Don't apply the giving spirit exclusively to loved ones, apply it to your business endeavors as well. This book, written by Bob Burg and John David Mann is a quick read that will add positivity to your personal life as well as your office life. The book centers around an ambitious businessman who hungers only for success, no matter the cost. Despite his ruthlessly hard work, the salesman finds that his goals are further and further from reach. It is not until he meets a series of individuals who put others interests ahead of themselves, a practice that adds more value to their own lives. This book emulates the proverb, "Give and you shall receive."
4) The Membership Economy: Find Your Super Users, Master the Forever Transaction, and Build Recurring Revenue
Author: Robbie Kellman Baxter
Membership is a growing trend in today's economy. Membership economies can be found all around us; Spotify, Netflix, Amazon Prime, Ipsy, Gyms, it's everywhere! Consumers like to feel as if they a part of an exclusive set of people. The membership economy is all about not just making sales, but keeping clients. Existing clients are a key to your business's success, because loyalty breeds ROI. Furthermore, it builds a more direct relationship with clients that strengthens your brand and generates an ongoing data stream that can be applied to further sales. This book has been recommended by sales and marketing executives alike.
5) Jab, Jab, Jab, Right Hook: How to Tell Your Story in a Noisy Social World
Author: Gary Vaynerchuk
A common piece of sales and marketing advice today is to present your business as a compelling personal story or empowering mission. However, we are also inundated with stories and missions from a litany of companies. It is a literal fight to make your company's story stand out in this climate, which is where the title of this book by Gary Vaynerchuk comes from. Standing out today is about more than just creating masses of digital content, it's about making it simple, memorable, inviting, and simply fun to read. This book will increase your social currency and is full of useful quotes like, "Twitter is the cocktail party on the Internet, a place where listening well has tremendous benefits."
6) To Sell is Human
Author: Daniel H. Pink
"Anytime you're tempted to upsell someone else, stop what you're doing and upserve instead." These are the words of author Daniel Pink. The goal of this book is to teach and show you the value of selling in a more honest and sustainable way. Pink shares a wealth of innovative sales tips, such as using the old improv technique of "Yes and.." when talking to prospects or customers. The biggest takeaway from To Sell is Human is to be honest in all your business transactions. Sales should not be a zero-sum game. There shouldn't be a winner and a loser, it should be win-win. Honest selling leaves your customers feeling good and they're more likely to refer your business to others. Whether you're selling a service or selling yourself, this book can benefit everyone!
7) Endless Referrals
Author: Bob Burg
This book is such a hit you'll likely end up referring it to someone you know. Bob Burg is not only an author, but also a motivational speaker and consultant. His cardinal rule in business? Creating and growing meaningful and mutually beneficial relationships. His methods help you attract other go-getters and customers who are interested in what you have to sell. "All things being equal, people will do business with, and refer business to, those people they know, like and trust." This book is guaranteed to take your networking to the next level.
8) The Power of Habit: Why We Do What We Do in Life and Business
Author: Charles Duhigg
This book breaks down the science behind you're good (and let's face it sometimes bad) habits. How are they established? How do they affect our day to say lives? How can breaking bad habits utterly change our lives? This book teaches you all of this and more in a fun and engaging way. Cover to cover, the pages are filled with anecdotes that back up claims. The more often we perform habits, the deeper they becomes embedded in our brains. Therefore, you better ensure that your habits are beneficial ones. The author's golden rule for habit breaking is; switch the negative habit for a positive one but keep the rest of the routine intact. This selection is a fantastic read no matter what industry you're in. By changing our habits, we can change our destiny.
9) Smart Calling
Author: Art Sobczak
As the title claims, this book will help you eliminate the fear, failure, and rejection that comes with cold calling. The first step is to acknowledge that traditional cold calling is dead, and it's time to reimagine your approach. You can't just eliminate cold calling from your sales arsenal completely, you still need a way to reach out to possible new consumers. Try smart calling instead! It's not just a numbers game, it's a value game as well. One tactic is to get the prospect talking about themselves, their needs, and their pain points. This selection will boost your confidence and help you find your sales groove!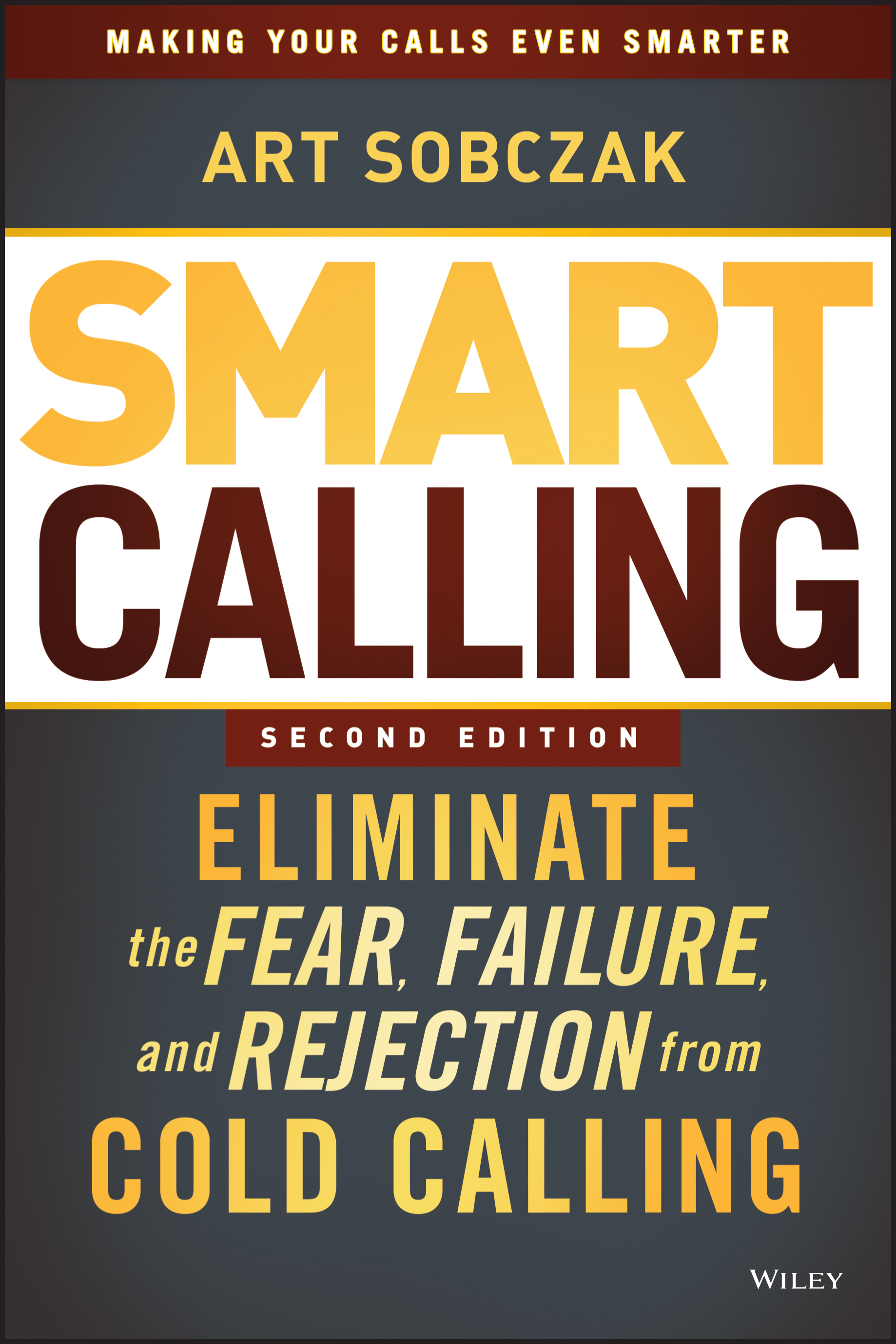 If you're looking to delight a sales or marketing professional in your life, then any of these books would make an excellent stocking stuffer, or a nice treat for yourself!
Get a head start and treat yourself right now to our free eBook and gain even more sales and marketing tips for your business.
About Jennifer Clark
Jennifer Clark is a senior International Studies student at Fordham University and a Content Marketing & Social Media Intern with DMTraining. Prior to joining the DMTraining team, Jennifer helped various start-ups market themselves on and off campus. This summer, she hopes to add value to DMTraining by assisting clients with digital media education, using her status as an industry newcomer to her advantage. Outside of work, Jennifer enjoys creative writing, making art, and petting every dog she comes across.